Many organizations struggle when it comes to renewing their IT maintenance contracts. One of the major challenges that most...
Many organizations struggle when it comes to renewing their IT maintenance contracts. One of the major challenges that most organizations face is to decide between Original Equipment Manufacturer (OEM) and Third-Party Maintenance (TPM) support providers for obtaining long-term maintenance services. While OEMs are focused more on development and sales, TPMs are solely invested in customer service and focus mainly on meeting their clients' needs. They offer several services to keep IT hardware functioning even after their End of Service Lifecycle (EOSL).
Despite gaining significant popularity due to their advanced and cost-effective services, quick response, and optimum results, several misconceptions about TPM providers have emerged in recent years. In this blog, we will learn about Third-party Maintenance, the benefits they offer, and some common misconceptions among professionals about hiring TPM services.
What is Third-Party Maintenance?
Third-party maintenance is often an alternative to standard OEM warranty and post-warranty assistance and is a non-authorized reseller. TPM companies offer a variety of break-fix and enterprise-level services, including third-party hardware support, replacement or repair of server, network, storage, or data center hardware, on-site assistance, operating support, remote monitoring, and more. Furthermore, they train and certify engineers from various suppliers, including IBM, Dell, HPE, and Cisco, to gain expertise and deliver reliable services with full transparency.
Additionally, a third-party maintenance provider does not use OEM resources to deliver its service. Their first-call help desk, backline technical support, frontline field support, and replacement parts are independent of the manufacturer. There is no automatic escalation to the OEM with third-party maintenance.

Third-Party Maintenance: Unbeatable Benefits
When it comes to "doing more with less," most IT managers worldwide prefer to seek Third-Party Maintenance. More and more businesses are looking for new and better ways to cut expenses and extend the life of their CAPEX. Though service providers are the obvious choice for new equipment, there are a few considerations to consider once the first service agreements expire. You can get the same level of service and components with customized SLA for less. CXtec, a vendor-agnostic partner with over 40 years of experience in the industry, offers advanced solutions, such as RapidCare®, to deliver top-notch services that guarantee cost savings and advantages at a fraction of the cost.
Below, we have listed a few unbeatable advantages of Third Party Maintenance services:
1) Significant cost savings
A TPM will substantially reduce your monthly maintenance and upkeep expenses. Savings will vary according to the type of server or storage hardware deployed and how much it costs, but receiving support will be easier and less expensive than ever before!
2) Key service enhancements
Because TPM engineers have diverse skills with specific equipment, the maintenance agreement with third-party providers is considerably more flexible to the demands of different customers. Some may merely require system upgrades, whereas others might require updates and patches. Thus, TPM appeals to many because of its needs-based service management tools and capabilities.
3) Customizable Support Solutions
When you deal with an OEM, you're just a figure on a spreadsheet. You rarely get the human attention your data center requires, especially in an outage or unanticipated disruption. TPM providers respond faster, resolve issues, and bring you back on track to productivity. In contrast to a restrictive, out-of-the-box, one-brand-only contract from the OEM, third-party maintenance providers allow you to create a solution that fits your particular needs across several manufacturers — a model that is tailored to your requirements.
4) Extending-the-Life, Steer Clear of Infrastructure Upgrades
The optimal strategy to extend an asset's lifespan without disrupting operations is to look for opportunities to defer technological refreshes and prevent CAPEX. You might wonder whether products can be supported for a more extended period if a plan is in place. The excellent news is TPM offers technical expertise from OEM-trained technology professionals and service industry experts who can handle even the most complicated systems without requiring you to purchase whole new equipment. You can continue to use your equipment after the warranty has expired.
5) Flexible SLAs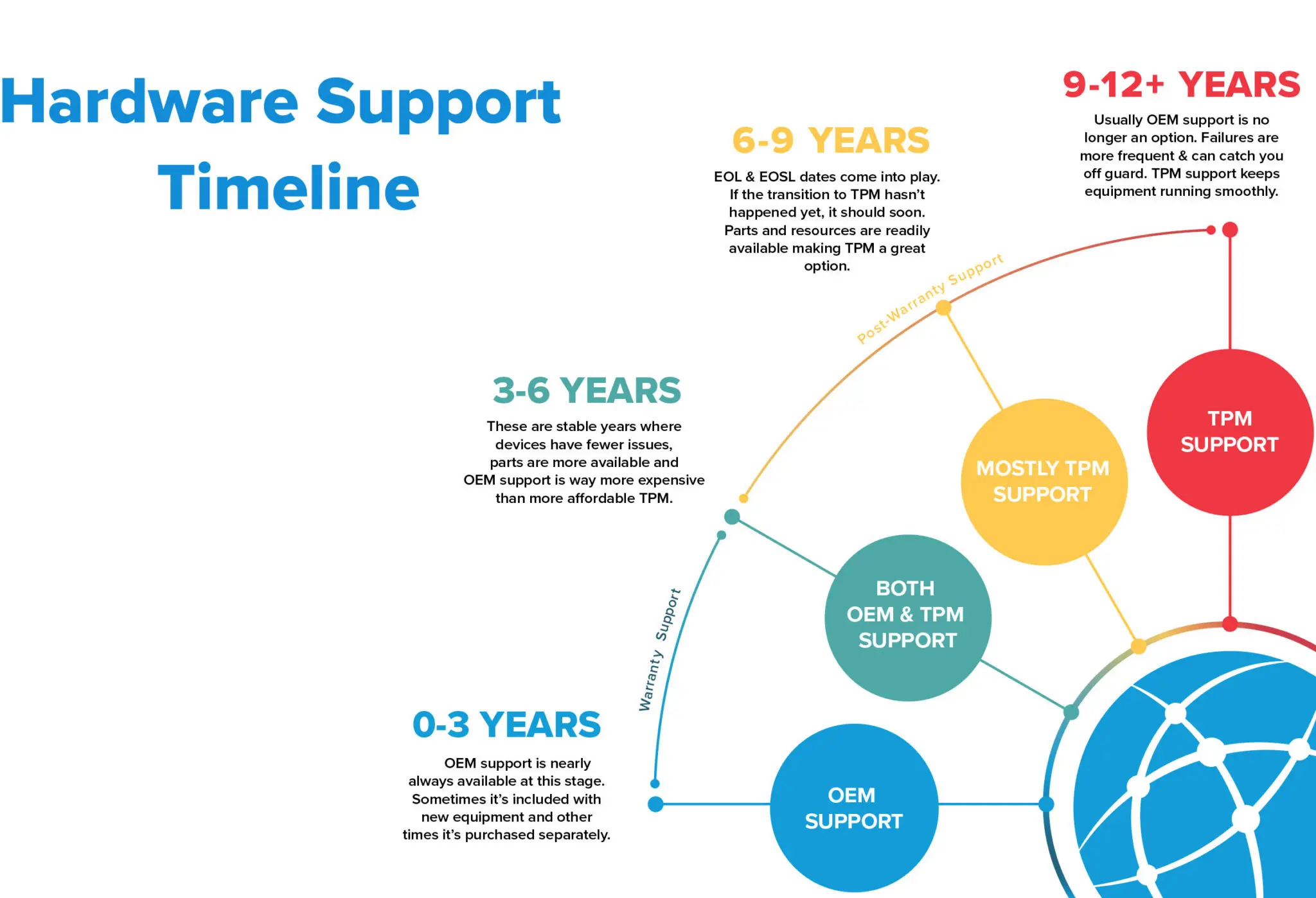 Manufacturers want a one-size-fits-all solution for hardware support, which rarely works. A few reputable third-party maintenance providers, such as CXtec, provide various service level agreements, all of which may be tailored with add-ons to suit your specific requirements. They also offer duration flexibility, allowing you to target production and non-production equipment for coverage more efficiently. It also simplifies other tasks, such as filling a warranty gap during a cloud transfer!
Debunking the Common Misconceptions About TPM Services
Generally, organizations have relied on original equipment manufacturers (OEMs) for data center maintenance. However, current financial limits have created space for a new competitor. Companies worldwide rely on third-party maintenance (TPM) services to alleviate IT support's financial and procedural pressures. TPM provides a more valuable service to businesses by aiming to maximize the ROI of their data centers.
Myth #01 The risk of switching to a TPM provider outweighs the savings
Fact: You might be amazed, but a third-party maintenance program, such as RapidCare® from CXtec, makes more sense.
It's a common misunderstanding that using a third-party service puts your company at risk. It stems from the notion that the secondary hardware providers are limited in their ability to deliver OEM-like support. Working with an experienced support partner, such as RapidCare® from CXtec, can benefit your system and enterprise as a whole.
TPMs generally categorize their services as Generally Available (GA), End of Life (EOL), and End of Software Support (EOS) to smoothen the entire service process, eliminate the confusion, and enable IT managers to make well-informed decisions based on the categorization. Further, the average annual savings of switching from OEM to TPM support ranges from 40% to 60%.
Myth #02 You can't get deep EMC expertise from a third party.
Fact: This is not true.
TPM engineers undergo multi-platform training that enables them to offer comprehensive services. They can walk into any IT system and fix any multi-vendor technical difficulties. In fact, most OEMs outsource field service delivery to a third-party organization.
But why would they contract out hardware services?
OEMs are in the business of creating, developing, and selling hardware. They provide equipment or hardware maintenance for a specific period. Most OEMs prefer outsourcing their maintenance services to TPMs to avoid the financial burden of maintaining a global field engineering team of W2 technicians. In many circumstances, third-party providers use the same field engineers you would get if you purchased OEM assistance.
Furthermore, the most excellent third-party maintenance companies invest in engineering expertise and ensure their employees remain at the top of their industry. Moreover, their expertise is more accessible than those of EMC.
Myth #03 Only original equipment manufacturers (OEMs) can supply essential parts.
Fact: RapidCare®, you can get Easy-To-Manage Contract Across Brands, Devices, And Functions
This misconception emerged during the early days of IT maintenance when a third-party service could only access old or low-quality parts. Most manufacturer-provided hardware support solutions now offer specific equipment and spare parts via management channels that are easily accessible to third-party professional services.
Furthermore, the OEMs have already established partnerships with certain external multi-vendor services, granting contractual access to equipment which is subsequently used as a feasible option for network maintenance contracts. On the other hand, TPM providers not only have access to the same parts as OEMs, but they can also offer maintenance and support services for your equipment even after EOSL.
Myth #04 TPM Support is Unreliable
Fact: Third-party maintenance companies like CXtec offer certified spare parts, reliable telephone support, fast on-site assistance, and more.
While OEMs are overburdened with service requests and preoccupied with technical innovation, a third-party support provider can serve your data center 24*7. TPMs specialize in low-cost maintenance and warranty services for current, end-of-life, and out-of-service equipment from nearly all OEM-branded devices. Since all the resources have been dedicated to supporting operations, response time is substantially faster. Experienced suppliers, such as CXtec, provide 24/7 service, ensuring a response to data center queries with on-site assistance in the minimum time possible, no matter where you are located!
RapidCare® Advantage For Refurbished Hardware
CXtec is committed to delivering a more efficient way to deal with hardware support. With our RapidCare® service, you get a maintenance package from a secondary hardware market leader who focuses on excellent service and high-quality equipment. The same solid procedures that power our equal2new® certified pre-owned hardware brand also fuel our RapidCare® maintenance service, ensuring you obtain quality replacement parts that work the first time you use them. We also use "quick-to-field" dispatch to ensure that your break/fix ticket reaches a field technician considerably faster than process-heavy OEM systems. RapidCare® is the solution that minimizes the complexity of your service consumption while also lowering your costs significantly. Using RapidCare® TPM services, whether for new or used equipment, is a sensible approach to redefining IT strategy.