By Jim Burns, Senior Product Engineer
First things first, Multigigabit is Cisco's marketing terminology for NBASE-T (IEEE...
By Jim Burns, Senior Product Engineer
First things first, Multigigabit is Cisco's marketing terminology for NBASE-T (IEEE 802.3bz). Feel free to do your research on it in the following links; however, there will not be a pop quiz once this blog post is over. So don't worry.
What's the Deal with Multigig?
Yeah… blah blah – so what?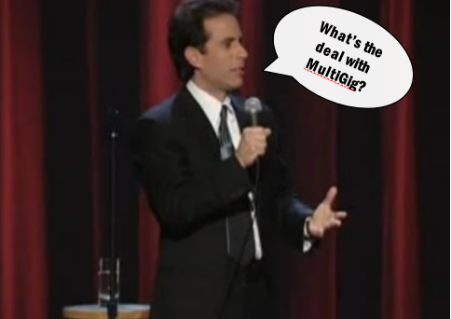 OK, the main benefit to Multigigabit is that it's for switches that have the latest/greatest 802.11ac Wave 2 wireless APs connected to them. The term refers to a port's ability to connect to devices (like APs) that require more than 1 gig of throughput.
If you really want to get technical, the speeds supported by Cisco's Multigigabit ports are 100 Mbps, 1 Gbps, 2.5 Gbps, and 5 Gbps on Cat5e cable, and up to 10 Gbps over Cat6a cabling.
Cisco switches that support Multigigabit technology at this point are:
Catalyst 4500E chassis (WS-X4748-12X48U+E blade)
Catalyst 3850 stackable (WS-C3850-24XU, WS-C3850-12X48U)
Catalyst 3650 stackable (WS-C3650-8X24PD, WS-C3650-12X48FD, WS-C3650-8X24UQ, WS-C3650-12X48UQ, WS-C3650-12X48UR, WS-C3650-12X48UZ)
Catalyst 3560-CX compact (WS-C3560CX-8XPD-S)

Cisco Wirless Access Points that can do Multigigabit
Cisco 3800 series
Meraki MR84
2 Views Regarding Multigigabit
Alright, that's about enough geek stuff… at this point, you're probably in one of two camps:
Camp One:
You've been thinking about or planning to upgrade your wireless in the near term to the latest 802.11ac Wave 2 APs. If so, COOL!
You're going to have a state-of-the-art wireless setup that just cries out for Multigig – now you have a clue of what it is and which Cisco products support it. I hope you have the budget to make your dreams come true.
Camp Two:
You're reading this thinking, "I'm nowhere near upgrading to a wireless setup like that, but I do need to upgrade my switch infrastructure." OK, may I humbly suggest that you don't chase after Multigig yet. Here's why:
It's EXPENSIVE – latest/greatest stuff always is
Availability is limited – especially in the secondary market where you can really save budget money
Remember again that there are literally only a couple of Cisco APs that have the feature. Are you really considering going after those high-end APs?
---
Still have questions? Not sure what's right for you?
If you're looking for options, or have more questions, we have experts who can help you. We have product managers and engineers that can help guide you to an affordable switching solution with the right features for your needs. Offering customers options is what we do – it's our specialty.